The ARO is an international scientific society composed of basic scientists and clinicians who are actively investigating basic science and clinical problems associated with hearing, speech, balance, smell, taste and diseases of the head and neck. The ARO provides a forum for the interchange of information through its peer-reviewed journal, JARO, and via the ARO Annual MidWinter Meeting.
There are currently ~1824 ARO members: 1030 regular members, 635 Student/Postdoc/Resident members, 146 Senior members and 13 Honorary members.  Students, postdocs and resident members are also invited to join spARO, with special activities for and by trainees.
Click here to view the 2020 Membership Guide!
MEMBERSHIP CATEGORIES:

All ARO membership categories run on a calendar year from January through December.

REGULAR MEMBER – $120 per Year
Individuals with established competence in research in the clinical and/or basic sciences as they relate to otolaryngology. An individual applying for regular membership must be proposed by two regular members in good standing of the Association. If members of the association are not available in your home country, please contact the ARO Executive Office (headquarters@aro.org) for more information on how to submit an application. A curriculum vitae which includes bibliography and evidence of research interest and competence must be included with the membership application. Under exceptional circumstances, an individual with professional experience (technical or administrative) related to Otolaryngology may apply to be a regular member. In these cases, a letter of support from a member of the association must be included with the application. 
STUDENT/POST DOC & RESIDENT MEMBER – $50 per Year
Individuals engaged in formal training as required for certification by the American Board of Otolaryngology, in pursuit of a post-baccalaureate degree, formally recognized as a postdoctoral fellow or engaged in research training in the broad area of Otolaryngology. Individuals applying for student/post doc & resident membership are required to provide proof that they are, in fact, in training. Student/Post Doc & Resident members are not eligible to vote or to hold office in the Association. The limit for a student/post doc & resident membership is five (5) years. A curriculum vitae and letter from the department chair or research training supervisor specifying training status must be included with the membership application.  
SENIOR MEMBER- $50 per Year
Any Regular member, aged 55 or over, who is current with their membership dues, and has retired from practice, teaching, and research, may be designated a Senior member by action of the ARO Council at the member's request. Senior members are not eligible to vote or to hold office in the Association; however, they may serve on committees. A Regular member wishing to change membership category to Senior member must notify the ARO Headquarters office of his/her request.  Senior members may petition to ARO Council for a waiver of  registration fees to attend the MidWinter Meeting.  For this petition, the member will confirm in writing that they are no longer receiving support (salary and/or travel funds) through research grants or other external sources, and that they do not expect this will change in the future.
HONORARY MEMBER- $0 per Year

A person who has contributed in any extraordinary manner to the advancement of otolaryngology and related sciences may be elected by the majority vote of Council. Honorary members shall have all the privileges of membership except the right to vote or hold office and shall not be required to pay dues.
*Late fees – ARO membership runs on a calendar year basis and is effective January 1 through December 31. Membership applications may be submitted year-round. Benefits begin immediately upon joining. Membership dues renewals are invoiced in September for the following year's dues.  Anyone who does not renew their membership by December 31 will be assessed a $25 late fee.
---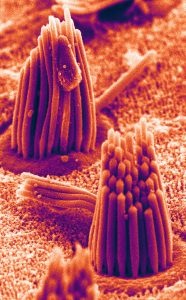 Image courtesy of Leonardo R. Andrade of Salk Institute for Biological Studies
Description: SEM of bullfrog basilar papilla with two hair cells at opposite orientation