ARO COUNCIL

President


(2020-2021)
Ruth Litovsky, PhD 
President-Elect


(2020-2021)




John Oghalai, MD

Past- President
(2019-2020)
Keiko Hirose, MD

Nominations Committee Chair


(President: 2018-2019)




Karen Steel, PhD

Secretary/
Treasurer


(2020-2023)




Barbara Shinn-Cunningham, PhD

Communications Officer 


(2018-2021)




Donna M. Fekete, PhD

MidWinter Meeting Program Chair


(2020-2023)




Matthew Kelley, PhD

Council Member


(2018-2021)




Mark Warchol, PhD

Council Member


(2019-2022)




Lisa Cunningham, PhD

Council Member


(2020-2023)




John Brigande, PhD
---
ARO CONTINUES TO THRIVE BECAUSE OF STELLAR LEADERSHIP AND FOR THAT WE ARE GRATEFUL: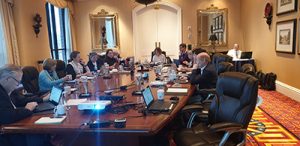 ARO Council meeting at the 2019 MWM.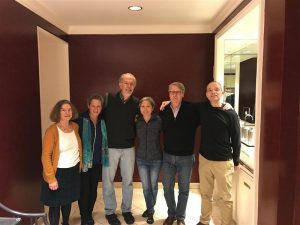 CLICK HERE for a list of our esteemed ARO Past Presidents.
Some past and current presidents of ARO, MWM 2020.   from left-to-right:  Karen Steel, Ruth Litovsky, John Middlebroooks, Keiko Hirose, Charlie Liberman, and Matt Kelley.
---
Interested in volunteering for an ARO committee? You can learn more about each committees charge by clicking the committee name. To volunteer, please click here.
Apply before Friday, March 12, 2021 to be considered in the 2021 committee volunteer cycle.