The ARO invites proposals for funding of small grants (up to $1000) to support activities either in the US or internationally that would enhance our mission and visibility as the premier hearing research organization in the world. Some specific activities that could be considered include:
Sponsorship of an invited lecture for an ARO-member at a meeting, either national or international, particularly one at which ARO does not typically have a presence.

Partial support of small 'local' research meetings that serve as a venue for members to meet to discuss focused topics; student participation may be targeted in these grants.

Partial support of symposium at an international meeting, for presentations by ARO members, on a topic of interest to members of that society and attendees of the meeting.
Requirements: applicants must be ARO members, and lectures/events must include a slide and/or other materials that acknowledge ARO support. The ARO will fund up to three grants per year.
Please send proposals to ARO headquarters at headquarters@aro.org.
---
The Milken Institute is administering a grant program focused on Misophonia in collaboration with the REAM Foundation. At the end of 2019, this program awarded six grants in its inaugural year of funding. The program will support two-year projects led by either faculty or postdocs with an annual budget of up to $200,000.
Misophonia is a newly identified condition where individuals experience strong negative emotions in response to specific sensory stimuli such as the sounds of a person chewing. The scientific field sits at the intersection of psychology, neuroscience, and audiology and we are hoping to attract novel proposals across these fields.
The RFP is published on our website, and we have developed a guide to the scientific topic and outstanding questions which may help researchers interested in the field. We are requesting letters of intent by January 10, 2020 and full proposals will be due on March 13, 2020. If you or researchers at your institution have additional questions, please visit our website or contact our team at misophonia@milkeninstitute.org.
---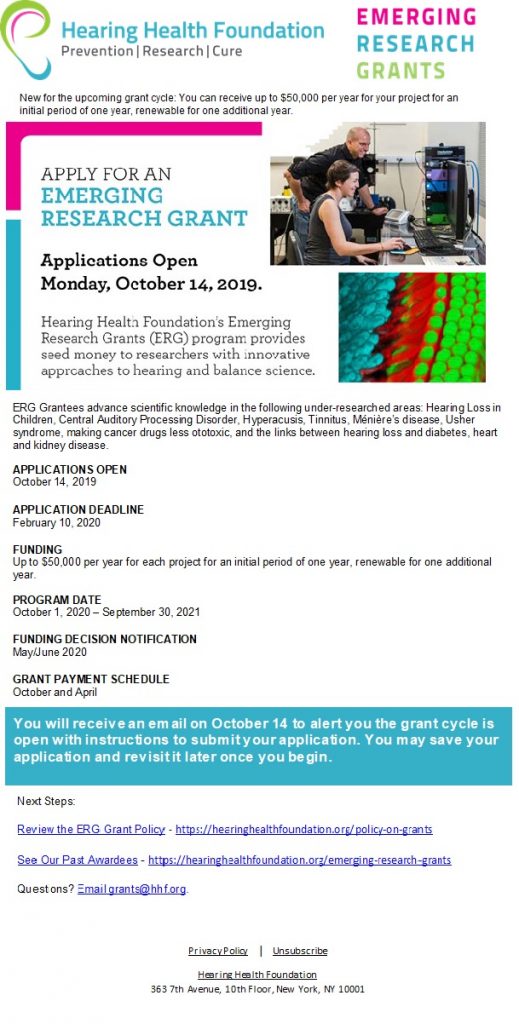 NIDCD would like to draw your attention to soon-to-be published funding opportunities for Down syndrome research.  The INCLUDE project (INvestigation of Co-occurring conditions across the Lifespan to Understand Down syndromE) recently released a Notice of Intent to Publish four upcoming funding opportunities NOT-OD-19-051.  NIDCD will participate in each of these opportunities.  The turn-around time to application submission will be rapid, which is why we are alerting you now.
---
Department of Defense Hearing Center of Excellence (HCE)
Funding: https://hearing.health.mil/Research/Research-Funding
National Institute on Deafness and Other Communication Disorders (NIDCD)
Homepage: http://www.nidcd.nih.gov/Pages/default.aspx
Funding: https://www.nidcd.nih.gov/funding