ARO 2020 Photo Contest
Below you will find stunning images from the research labs of our members, submitted in response to an ARO Art Contest held in January 2020.  These images can be seen scattered throughout our web pages.  Please make sure that you do not use these images without crediting the source.  Thank you & enjoy!
First Place
Credit:  Patrick Lam, Ella Trang, Niki Gunewardene, and Andrew Wise of Bionics Institute
Description: 3-day culture of primary spiral ganglion cells isolated from 5D neonatal Sprague Dawley rats.This image shows a common phenomenon of spiral ganglion neuron processes being surrounded by glial cells that could play an important role in the nerve survival and signalling.Cells were visualised via immunocytochemistry. Labelled in green are two spiral ganglion neurons using Tuj1 as the primary antibody binding marker; in red are the glial cells using S100 beta as the primary antibody binding marker; all cell nuclei were stained with DAPI in blue.
Second Place - Tied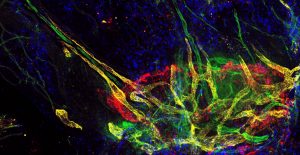 Credit: David Bächinger, Andreas H. Eckhard

Description: This image shows a quadruple immunostaining a of a whole-mount specimen of the adult murine endolymphatic sac (6 weeks old female C57BL/6J). Lymphatic vessels were stained with an anti-LYVE1 antibody (yellow). Concanavalin A (green) was used to mark blood vessels. The endolymphatic sac is outlined by epithelial staining using a pan-cytokeratin antibody (red). Cell nuclei are marked with DAPI (blue). Note that lymphatic (yellow) and blood vessels (red) form a "star-like" hub in the endolymphatic sac region
Second Place- Tied
Credit: Leonardo R. Andrade of Salk Institute for Biological Studies and NIDCD/NIH

Description: SEM image of bullfrog otoconia.