MOH activities!
Please join our virtual summer MOH activities! More info: https://moh2020.dtu.dk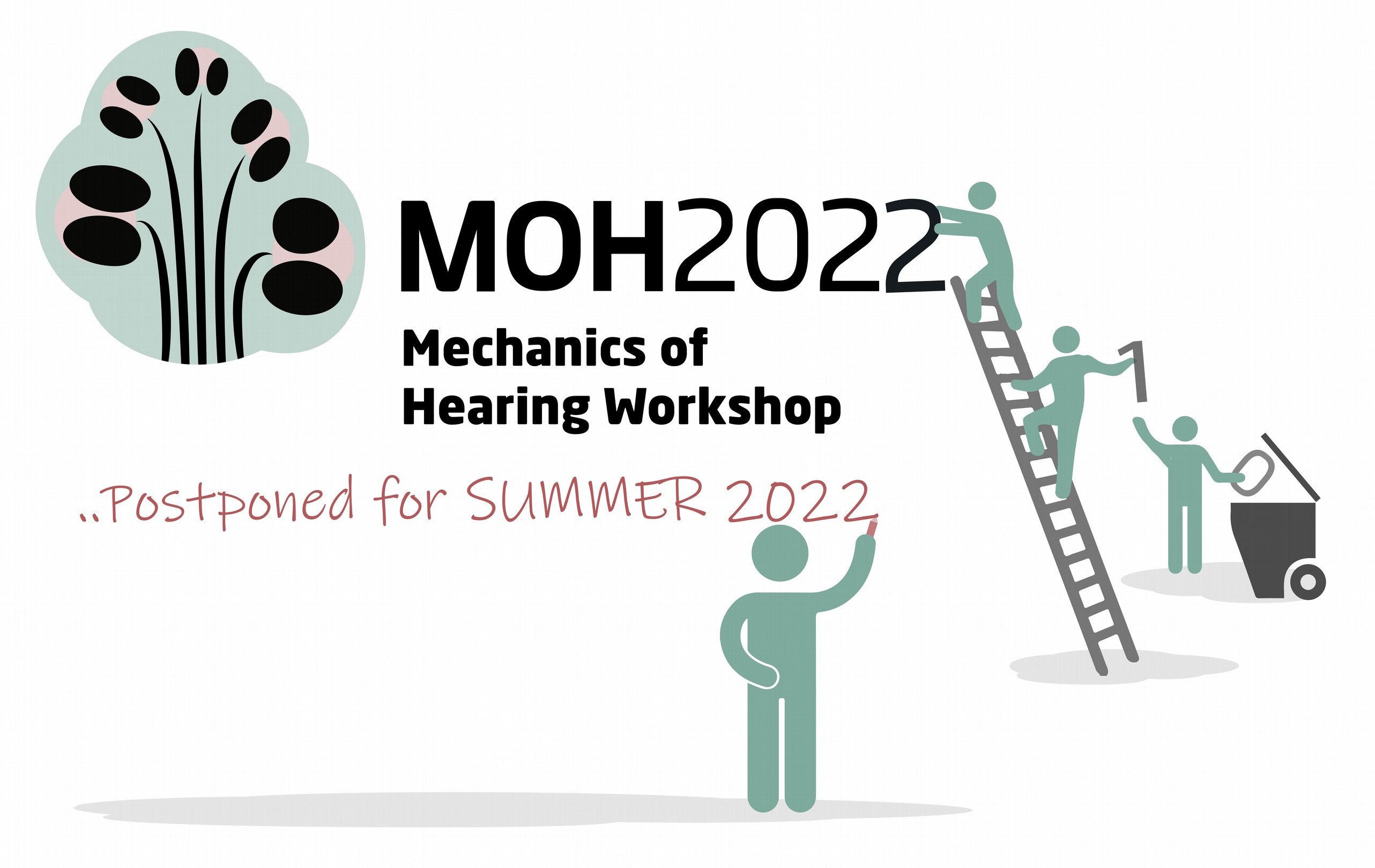 Symposium & 57th Inner Ear Biology Workshop – IEB 2022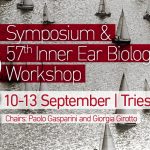 Symposium & 57th Inner Ear Biology Workshop – IEB 2022 will take place in Trieste, Italy on 10-13 September 2022.
The Workshop will focus on the genetics, pathology and therapies of the inner ear, highlighting the importance to bridge basic research into clinical application, and will be preceded by a Symposium on "Hearing loss: from inner ear biology to the development of innovative therapeutic approaches. (information and updates on https://ieb2022.it/)
4th Frequency-Following Response Workshop - 8-10 June 2022 - University of Barcelona (Catalonia, Spain)
About the Workshop

The Frequency Following Response (FFR) is a sustained auditory evoked potential that has gained recent interest in auditory cognitive neuroscience over the past few years, as it captures with great fidelity the tracking accuracy of periodic sound features in the ascending auditory system. By analyzing the FFR it is possible to read neural traces from the scalp as sounds are transcribed in the neuronal aggregates and how these neural sound traces are shaped by different auditory experiences, context, and challenging conditions, such as listening in noise, with age and in speech and language disorders. Moreover, the number of developmental studies recording the FFR during the first years of life in healthy and clinical conditions are growing exponentially, as the FFR provides a neurophysiological correlate of language acquisition and processing.
Despite its popularity, a lot remains unknown about the FFR: what are the underlying processes involved in generating the response and what do the components making up the FFR reflect exactly? What kind of analyses are most appropriate to characterize the response? And what does inter-individual variability in the FFR signify? The aim of this workshop is to bring the FFR community together and to open up the discussion on the origins and interpretation of the response, explore new recording and analysis techniques, and discuss hot topics in this rapidly evolving field.
Confirmed Speakers
Erika Skoe (keynote), University of Connecticut
Gavin Bidelman (keynote), University of Memphis
Bharath Chandrasekaran (keynote), University of Pittsburgh
Gabriella Musacchia, University of the Pacific
Tobias Teichert, University of Pittsburgh
Jennifer Krizman, Northwestern University
Teresa Ribas-Prats, University of Barcelona
Important dates
Abstract submission deadline 1 March 2022
Notification of abstract acceptance 20 March 2022
Early registration Until 20 April 2022
Late registration 21 April - 1 June 2022
Congress dates 8-10 June 2022

Registration fees
Early payment (until 20 April 2022)
Students: 75 €
Postdocs/PIs: 125 €

Late payment (21 April - 1 June 2022)
Students: 100 €
Postdocs/PIs: 200 €
9th Midwest Auditory Research Conference (MARC)
The Kresge Hearing Research Institute is pleased to host the 9th Midwest Auditory Research Conference (MARC) on June 23-25, 2022, in Ann Arbor, Michigan. The MARC was created as a setting for the presentation and discussion of cutting-edge auditory and vestibular research and to foster a high level of interaction among students, postdoctoral fellows, and faculty scientists. 
Goals:
To foster collaborations among basic, clinical, and translational hearing and vestibular scientists and clinicians from the Midwest.

To provide an affordable and accessible opportunity for graduate and postdoctoral students to present their work while interacting with national leaders in the field at a national-caliber scientific meeting.
Star-studded line up of Keynote Speakers:
Ruth Anne Eatock

Gwenaelle Geleoc
Maria Neimark Geffen

Elisabeth Glowatzki
Presentation topics:
Hair Cell Function

Genetics of Hearing Loss & Gene Therapy
Cortical Processing

Hair Cell Synapses
Development & Regeneration
Human Psychoacoustics & Imaging
Translational Research & Development
Friday Museum ReceptionPlease join us Friday evening during the MARC at the University of Michigan Museum of Art to explore the art collections, enjoy cocktails and dinner, and meet other scientists in the field. The evening will conclude with a discussion on how to improve diversity, equity, and inclusion in auditory and vestibular research featuring a panel lead by Dr. David Brown, University of Michigan Associate Vice President and Associate Dean for Health Equity and Inclusion and Associate Professor of Otolaryngology-Head and Neck Surgery.
Biology of the Inner Ear – BIE 2022
Biology of the Inner Ear – BIE 2022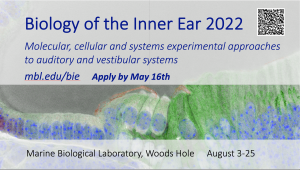 Advanced research course on experimental approaches to auditory and vestibular systems
Marine Biological Laboratory, Woods Hole, Massachusetts
August 3-25 2022 - Apply by May 16
Directors - Ruth Anne Eatock, Andy Groves, Philip Joris
Assistant Directors – Jennifer Rowsell, Bradley Walters
BIE  is the 8th iteration of a course that will introduce investigators to research challenges in auditory and vestibular systems ranging from inner ear development and regeneration to sound perception.  Through intense laboratory, tutorial and seminar exercises, students work closely with over 40 scientists from around the world and different sub-fields of expertise. Laboratory exercises feature diverse model organisms and include advanced microscopy, cell and tissue culture, cellular and systems electrophysiology.    
The Marine Biological Laboratory is renowned for its summer offerings of advanced research courses, and the setting on Cape Cod, Massachusetts is beautiful. 
Applicants must be in graduate school or beyond, and have backgrounds in biological, physical or computational sciences.   Past students have included mid-senior level graduate students, postdoctoral fellows and residents, and faculty. 
Tuition, room and board are provided.  Partial travel costs will be considered. Women and minorities are encouraged to apply. 
MBL is an EEO/Affirmative Action Institution
Molecular Neuroscience: Focus on Sensory Disorders Miami Winter Symposium 2023
Conference title:
Molecular Neuroscience: Focus on Sensory Disorders
Miami Winter Symposium 2023 
 Dates:  January 30 – February 1, 2023
 Location:  Miami, FL, USA
 Website:  http://www.miamiwintersymposium.com
 Secretariat:  Gemma Boodell, Elsevier, The Boulevard, Langford Lane, Kidlington, Oxford, OX5 1GB, UK
Email: g.boodell@elsevier.com
 Short announcement / Synopsis:  The Miami Winter Symposium 2023 is dedicated to Molecular Neuroscience: Focus on Sensory Disorders and includes an international line-up of renowned speakers – selected to provide attendees with a unique opportunity to meet with and hear from representatives from leading research centers on basic research, translational issues, and potential or actual clinical applications in sensory neuroscience.
Abstracts are invited for short Spotlight Talks and Posters on the conference topics - hearing, vision, smell, taste and pain/itch/touch – by September 16, 2022 to supplement the invited plenary program.
EARssentials- Concepts and Techniques of Contemporary Hearing Research (July 18-22, 2022)