INSTRUCTIONS FOR E-POSTER PRESENTATION
Meeting attendees should not take photographs or video of any slides, posters, or other presentations of data that are being presented. In an effort to be clear about the photography policy, we are asking all presenters to include in the bottom corner of each slide an icon depicting no photography is allowed. Click on the link below to download the icon:
• No Photography Icon
e-Poster Upload
All poster presenters are required to have their e-Posters uploaded to the site by February 5. *Note: It takes up to 24 hours after uploading the e-poster for it to show in the gallery. This includes last minute uploads during the live meeting.
The e-poster site offers presenters the opportunity to share their work online using high quality graphics and allows meeting attendees to browse through a gallery of posters that are being presented. The e-poster site has been developed with security in mind, protecting against downloading, copying, or printing of your work. E-poster viewing will only be accessible to registered 2021 midwinter meeting attendees. 
To begin your e-Poster upload, log in to the SUBMISSIONS DASHBOARD. After logging in, click the following button to begin the process:
Registered ARO attendees will be able to view the e-posters prior to the meeting and viewing will remain open until 30 days post-meeting.
Poster Presenter Instructions: 
Upload your e-poster to the e-poster gallery no later than Friday, February 5, 2021 using the links and instructions below. (*REQUIRED) a. Available file types to upload include: PDF, PNG, JPG, JPEG, or GIF. Images will be interactive and allow the user to zoom in/out, digital images are preferred. *PDF's are allowed but loose resolution when enlarged (blurred) and is not recommended. Maximum file size is 8 MB.
Upload an audio recording of a 1-3-minute presentation summary of your poster (*RECOMMENDED). a. This must be in a .mp3 or .AAV file format and cannot exceed 8 MB
To audio record your presentation, you can utilize an online audio recording site (example: https://online-voice-recorder.com/) or use a voice recording app on your smart phone then upload the file.
For instructions on setting up a free personal meeting room in Zoom, please see below information.

If an audio file is uploaded, when attendees view your e-poster they will be able to listen to your audio presentation.
Upload a transcript (written version of your audio recording) of your poster. (*REQUIRED)
Provide a web-link to join your personal meeting room. ARO strongly recommends Google Meets for accessibility in providing automatic captioning.  Other acceptable methods of video conferencing that provide automatic captioning include paid Zoom business/institutional accounts (captioning must be enabled) or Zoom integrated with Otterai.  Please be sure to test your link, and test your microphone, camera, and captioning before saving and submitting. It must be a clickable URL link.

PLEASE NOTE: Microsoft Teams will not be accepted as it does not allow captions to be transmitted across institutions.  For instance, if you are hosting using a Teams account from your university, only people from your university will be able to see the captions.  

Provide an email address where you can be reached at in case of connectivity issues.

For tips and tricks for preparing for your presentation, please click here. 
Creating a Google Meet
Use one of the following web browsers that supports Google Meet: Chrome Browser, Mozilla Firefox, Microsoft Edge, or Apple Safari.  Make sure that you have a current version.

Go to https://meet.google.com/

Click on "Start a meeting." See image below.
Sign in to your institutional or personal Google account. If you do not have an account, click "Create account". To create an account, fill in your first and last name, your email address (or select to create a Gmail address), and then type your (new) password twice.
After you sign in, click on "Join or start a meeting".
Leave the nickname blank then click continue. Alternatively, you can schedule the meeting using Google calendar or Outlook. Click on "Learn how to schedule a meeting" to do so.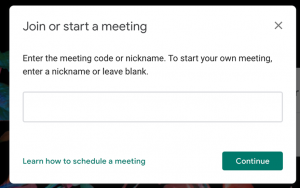 Click "Join now".

Copy the meeting information by clicking on "Copy joining info"
Paste this link into the appropriate field in the poster presenter access portal.

When it is time for you to present your poster, use the code for your meeting to join the meeting.

When you join, if your camera is working, you will see a video of yourself.

Along the bottom of the screen, there will be a menu that includes options to view Meeting Details (another place where you can copy and share joining information) at the bottom left, and raise your hand, turn on captions, or present now at the bottom right.

Next, test your microphone and audio. At the far bottom right of the screen, there are three dots that you can click to see other options.  Click on the Settings option.  You will see a screen that allows you to view your microphone output and test the speaker/headphone audio.  To test the microphone, speak and see the dots increase in size. To test the speakers/headphone, click the test button and you should hear a ringing sound.

Next, test your captions. Click turn on captions and speak.  Captions should appear at the bottom of the screen. 

To present, click "Present now".

You can choose whether to share your whole screen or just the window with your poster in it.

Troubleshooting: 
I'm able to see myself on Google Meet, but can't see others.

Make sure that you are not behind an institutional firewall. If you are at an institution with strict firewalls, like a hospital, disconnect from the institution's network and switch to a public or guest network.  If you are home, disconnect from VPN which also acts as a firewall.

A similar fix applies for others joining your meeting, if they can't see or hear others.
If you have questions regarding your presentation, please contact ARO Headquarters at headquarters@aro.org.