(1936 - 2018)
President of the Association for Research in Otolaryngology, 1977
&


Longtime Historian for the Association for Research in Otolaryngology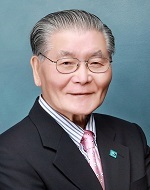 As many of you may have already heard, our beloved Historian and one of the founders of ARO, Dr. David J. Lim, passed away on June 29, 2018. David was a prolific contributor to the literature on the electron microscopy of the inner ear, using the technique in his studies on immunity and immunopathology of the middle and inner ear. David's career took him from Yensei University Medical School, in Seoul, Korea, to postdoctoral fellowship at the Massachusetts Eye and Ear Infirmary and Harvard Medical School. He served on the faculty at the Ohio State University for 25 years. He then served for four years as scientific director of the NIDCD's intramural research program. He then settled in Los Angeles to head scientific research for the House Ear Institute, and finally moved his lab to UCLA.
David not only founded, with eight others, the ARO in 1973, but he also served as its fourth President from 1977-1978. He continued to shepherd ARO Councils over subsequent decades as the Historian of the organization. Many young members and trainees, especially those from Korea, benefited from his encouragement and mentorship. The ARO recognized his myriad accomplishments with the Award of Merit in 1993. He has also received the AAO-HNS Presidential Citation, the Claude Pepper NIH Award, the Javits NIH Award, and a Fogarty International Center fellowship.
David is survived by his wife, Sooki, and sons, Robert & Michael. The ARO Council has reached out to his family to support them at this time, and we will be discussing the most fitting memorial for David in our upcoming meeting.
His son, Rob, wanted to share some of his reflections for us as well, noting that, "He was an avid amateur photographer and an experienced skier (there was an annual meeting in Colorado that was hosted at a ski resort - I believe by the Colorado Hearing Foundation. He became part of a group of aggressive, skilled, skiers called the Wild Bunch, after the movie). Beyond that, somehow, he found the time to become a pretty competitive tennis player with a well-developed spin serve…. He was always inviting his fellows and their families over for holiday meals (they were often from far away - out of town or country). I think that's a measure of his generosity, that he'd open our home on these occasions."
Other memorials for David can be found through these links:
https://www.nidcd.nih.gov/news/2018/memoriam-david-lim-md-first-nidcd-scientific-director
https://hearinghealthfoundation.org/blogs/in-memoriam-david-j-lim-md?bblinkid=105162837&bbemailid=8893429&bbejrid=683669927%20%20