The student, postdoc, resident and fellow chapter of the Association for Research in Otolaryngology (ARO) is an inclusive group for any trainee participating in ARO-related activities. Our goal is to help trainees learn the ropes of a professional career in speech and hearing-related sciences. 
spARO is run by a Steering Committee, elected annually at the ARO MidWinter Meeting.  One, ex-officio, member of the Steering Committee serves a second year, and acts as a non-voting representative on the ARO Council.  In addition, spARO provides representatives to each ARO Committee that meets at the MidWinter Meeting.  Given current levels of demand, these positions are typically filled by volunteers, although they will be moved to an election system if they become more competitive.
Follow spARO on social media for updates:




spARO is looking for writers for our new section spARO research news highlights. Articles authored by spARO members are ~400 words viewpoints/summaries of JARO articles. The viewpoints are published on the JARO and ARO websites, see below:
This is a great opportunity to hone your writing skills. As you write, you will be paired with an experienced editor for feedback on your article. It is also a fantastic chance to contribute to science and a useful data-point for your CV.
If you are interested in writing please provide your name, email address, and details of the JARO article you would like to review using the below form and you will be contacted soon. https://tinyurl.com/y64mp8w4

spARO 2021 STEERING COMMITTEE
Leadership:
Chair Elect: Bea Mao
Exiting Chair: Kirupa Suthakar
Faculty Mentor: Lavinia Sheets
Ongoing Initiative Representatives:
Social Media: Sumana Ghosh

Mentoring Sessions: Hannah Kang, Beatrice Mao, Jarnail Singh and Warren Bakay

Mentorship Program: Audrey Drotos and Justin Yao

JARO Research News: Kali Burke and Federica Maddelena Raciti

Global Outreach: Melissa Castillo-Bustamante

Virtual Learning: Kelly Jahn, Melissa Castillo-Bustamante, and Cathy Sung
ARO Committee Representatives:
Accommodations Committee: Kevin Booth
Long Range Planning: Kirupa Suthakar
Diversity and Minority Affairs: Ray Haggerty and Samantha O'Connell

International: Alejandro Garcia and Langchen Fan

Program:  George Ordiway

Travel Award: Sian Kitcher

External Relations: Benjamin Shuster
Midwinter Meeting Event Representatives:
Women in Science Round table: Tanvi Thakkar and Kelley Jahn
Science Communication Workshop: Dana Boebinger and Braulio Peguero

Young Investigator Luncheon: Nicole Jiam
spARO Social: Parthenon Management Group

spARO Archives
ARO 2020 Mentoring Session- Navigating the Grant Landscape

ARO 2021 Virtual MidWinter Meeting Sessions (View Here)
Seminar Series (View Here)

Coffee Hours

Call for Volunteers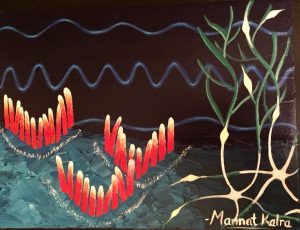 *Auditory Transduction/Under the Sea" by Mannat Kalra; depicts sounds waves, hair cells and neurons